A little over 10 years ago Kirra Galleries, then operating from a tenancy at Southgate, was approached and invited to open a gallery in Federation Square which, in those days, was a busy building site. We made a seminal decision to accept the offer and thereafter negotiated a lease and watched with growing involvement the building process. Soon the Atrium started taking shape, walls fell into place and I vividly recall the day when we could actually discern the shape of the future tenancy, destined to become Kirra Galleries.
After a great deal of planning, fitout and two days of frenetic activity, including a stint of all night shelf stocking, on 26th October 2002 we were set to open. Round about 11.00am on the day, Premier Steve Bracks ceremoniously cut a ribbon in one of the two finished spaces in the NGV - Ian Potter Centre's new northbank home and with much pomp and circumstance declared Federation Square open. Kirra Galleries was the only commercial tenancy open for business, having opened our doors simultaneously with Steve Bracks' ribbon cutting moment.
Since opening day we have assiduously set about promoting Australian Glass - we have involved ourselves with Institutions where glass making is taught, have encouraged students and participated in overseas exhibitions. We have offered prizes to emerging artists - many of whom now have achieved maturity and are represented in galleries both local and overseas.
With the preceding thoughts as backdrop, we decided to hold an exhibition - "Directors' Choice" where we show examples of the work of artists who have supported us in our journey, whose work we have exhibited before and whose work is typical of the high standards we demand. Constraints of space was a concern as our preference would have been to be more inclusive, though there are artists who simply did not have work to be exhibited at this time. The end result is a colourful, spectacular display of artistic vision, showcasing a variety of techniques from thirty-two of the best glass artists in the country.
The artists whose work is on display are:
George Aslanis, Lisa Cahill, Tali Dalton, Ben Edols, Kathy Elliott, Brenden Scott French, Alasdair Gordon, Rish Gordon, Holly Grace, Tony Hanning, Noel Hart, Tevita Havea, Brian Hirst, Mikyoung Jung, Gerry King, Brent King, Jennifer Ashley King, Laurel Kohut, Miki Kubo, Amanda Louden, Ruth McCallum-Howell, Nadia Mercuri, Richard Morrell, Keith Rowe, Harriet Schwarzrock, Tim Shaw, Crystal Stubbs, Emma Varga, Bethany Wheeler, Patrick Wong, Robert Wynne and Takemura Yusuke.
The exhibition was opened on Thursday 4 October 2012 by a dear friend of the gallery, Dr Noris Ioannou who is the author of "Australian Studio Glass - its Makers and their Art" and who is currently the Co-ordinator of J-Studios Artist Community, North Fitzroy.
The exhibition runs until Sunday 4 November 2012 and we cordially invite those of our clients who have not yet been able to visit to inspect the exhibition and experience a representative cross-section of the quality of Australian Glass which is now gaining great renown and acceptance throughout Australia and worldwide.
Peter Kolliner OAM
Gallery Director
Kirra Galleries
Directors' Choice Exhibition 4 October - 4 November 2012
Kirra Galleries
Federation Square (enter via Atrium)
Cnr Swanston & Flinders Street Melbourne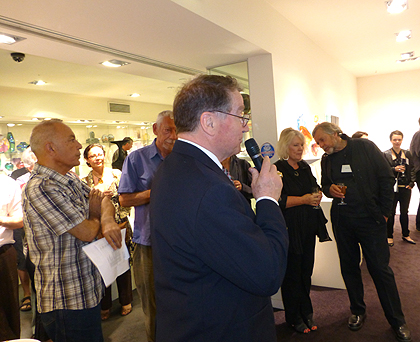 Left: Dr Noris Ioannou with Peter Kolliner, Gallery Director, speaking at the official opening of the exhibition.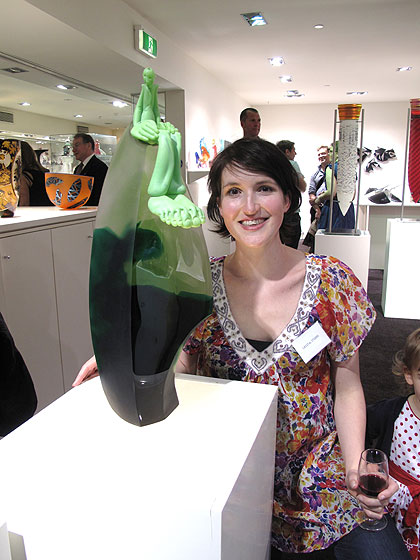 Crystal Stubbs with her work
Reverie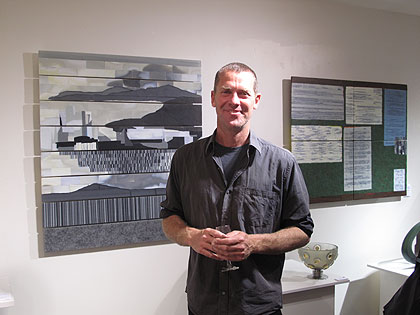 Brenden Scott French and his works
Tectonic Trace-Binary #5 2012
and
Floor Plan - 1/4 acre 2012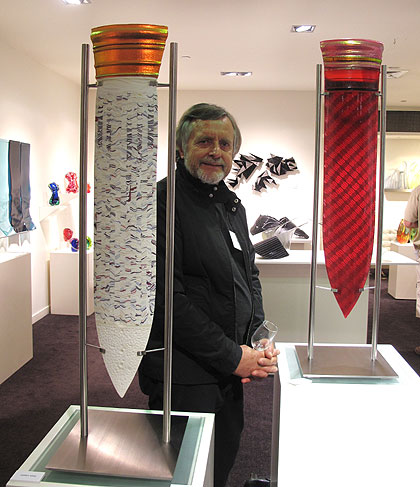 Gerry King with his works
Tartessos Novo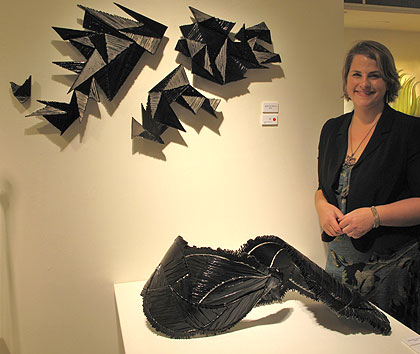 Jennifer Ashley King with her works
Linear Topology
and
Torsion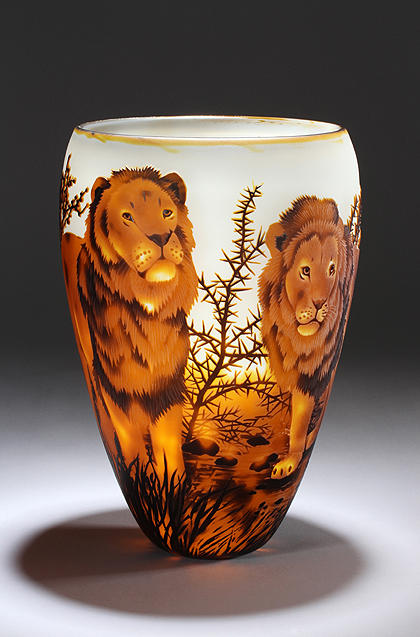 Lions
by Rish Gordon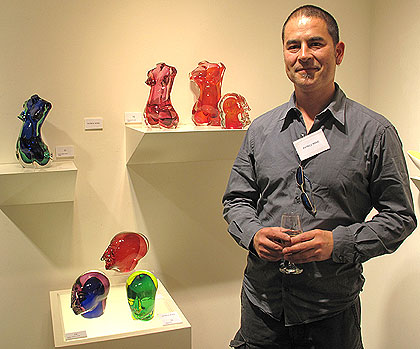 Patrick Wong's glass art works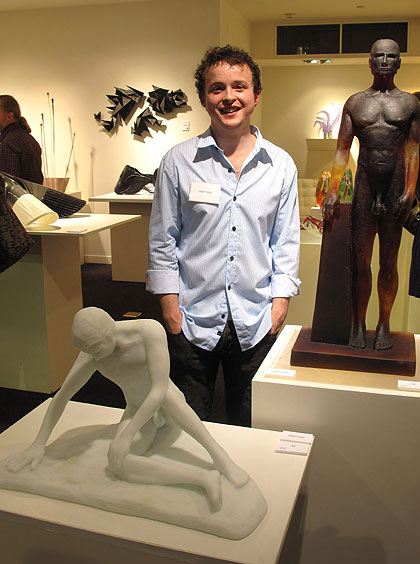 Brent King with his work
Veiled
Bethany Wheeler with her work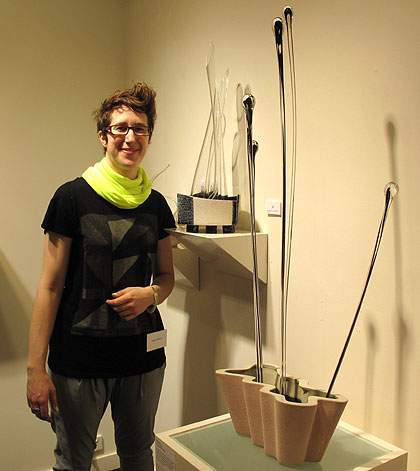 Nadia Mercuri and her works
Arrangement to Preserve